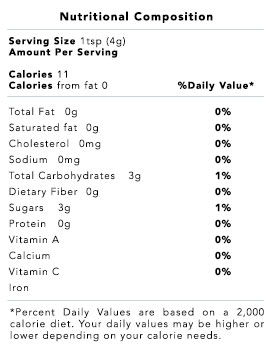 Facts
Dates have long been used as sweeteners and a quick snack, or meal even, for centuries. They are cholesterol-free and very low in fat. Plus they're energy boosters, making them a suitable snack for the health-conscious. Also, they're rich in vitamins B1, B2, B3, B5, A1 and C, proteins, dietary fiber, iron (11 percent), potassium (16 percent), calcium, manganese, copper, and magnesium. The soluble and insoluble fibers and amino acids present in dates can also help to improve the digestive system.
Preliminary Health Research
Minimal, raw processing allows for retention of dates' natural fiber, tannins, flavonoids, vitamins and minerals.
The magnesium found in dates can reduce blood pressure, and they have anti-inflammatory benefits, reducing inflammation in the arterial walls and reduce the risk of cardiovascular disease, arthritis, Alzheimer's disease, and other inflammation-related health ailments.
Uses
Can be substituted for sugar in baking and works well in breads, muffins and crumbles, creating delicate brown flecks. Does not melt, so blend thoroughly to avoid clumps. Also won't dissolve in beverages; don't add to tea or coffee, but enjoy sprinkled over yogurt or oatmeal.